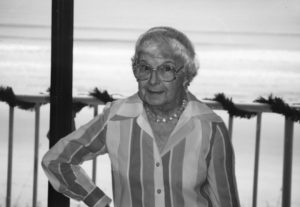 Margaret Heins, affectionately known as Peggy, was born in Glasgow, Scotland June 1, 1913. She moved to the United States in 1935 where she met and married her husband, Teddy.
During her life, she worked for the British Embassy, as well as, the American Institute of Certified Public Accountants in New York City before retiring to Cocoa Beach in 1972.
While she and Teddy enjoyed life to the fullest, she lived a frugal life and never wanted more than she needed. She loved living in Brevard County and in particularly enjoyed gardening, the water, and the arts.
Prior to her death in January of 2001, Peggy directed that the bulk of her estate be used for the exclusive benefit of Brevard County and its residents. Her wishes are being carried out by the Board of Trustees of The Margaret Heins Foundation.